100 freezer bags tie hand
Description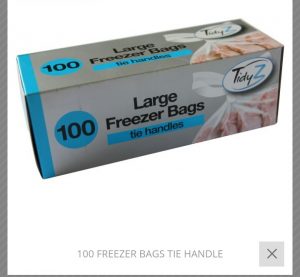 Related Products
Bello can opener safely and efficiently opens cans of all sizes. Designed to cut around the side of the can, the Bello can opener cleanly slices the lid from the can while eliminating sharp edges.
Give your  space a "smell" lift with Pan Aroma Fragrance oil, can be used with Pot Pourri Flowers or oil burners
Double egg slicer with metal blades Produces slices and wedges,  white Color available Approximate measurements: 22cm x 8cm
3 pack Peeler – 3 assorted Blades Vegetable peeler Potato peeler Julienne peeler (long thin strips)
These Non-Slip Placemats are available in both Black and Grey and help keep plates, cups, glasses and cutlery in place, they can also be cut down to any size.
Key FeatKey Features Its triggers alarm when somebody is spying or smashing the lock‎. 110 high‎-decibel siren alarm‎;‎ effective deterrent to criminals‎ Automatically alarmed after two laps rotation‎.‎ Padlock with three core high security keys‎‎ It can be used alarmed or unalarmed Electro-mechanical integration control‎,‎ all‎-round protection‎ures